If you think I completely lost all sense of reality with last night's
post
about the Army looking for
Internment/Resettlement Specialists
and the connection to the Senate's passage of the McCain-Levin Amendment to the NDAA that allows for the indefinite detention of US citzens, you might want to read this before you pass me off as delusional.
Infowars.com
Infowars.com has received a document originating from Halliburton subsidiary KBR that provides details on a push to outfit FEMA and U.S. Army camps around the United States. Entitled "Project Overview and Anticipated Project Requirements," the document describes services KBR is looking to farm out to subcontractors. The document was passed on to us by a state government employee who wishes to remain anonymous for obvious reasons.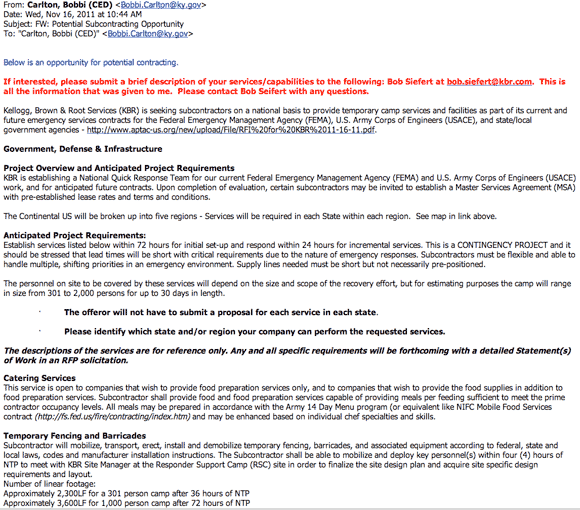 Services up for bid include catering, temporary fencing and barricades, laundry and medical services, power generation, refuse collection, and other services required for temporary "emergency environment" camps located in five regions of the United States.

Internment Camp Services Bid Arrives After NDAA

KBR's call for FEMA camp service bids arrives soon after the Senate overwhelmingly passed the National Defense Authorization Act (NDAA) which permits the military to detain and interrogate supposed domestic terror suspects in violation of the Fourth Amendment and Posse Comitatus.

Section 1031 of the NDAA bill declares the whole of the United States as a "battlefield" and allows American citizens to be arrested on U.S. soil and incarcerated in Guantanamo Bay.

Elements of the Police State Coming Together

The KBR document is more evidence that the federal government has established internment camps and plans to fill them with dissidents and anti-government activists that have been demonized consistently by the establishment media.

The NDAA was crafted precisely to provide the legal mechanism for tasking the military to round up activists it conflates with al-Qaeda terrorists. The plan was initially envisioned by Rex 84 and in particular Operation Garden Plot, an operational plan to use the Army, USAF, Navy, and Marine Corp. in direct support of civil disturbance control operations. It has since added numerous elements under the rubric of Continuity of Government, the overall war on terror, civil disturbance and emergency response.

The government has patiently put into place the crucial elements of its police state grid and overarching plan for the internment of political enemies.

We are quite literally one terror event away from the plan going live. As the DHS and the establishment media keep telling us, the next terror event will be on American soil and not the work of al-Qaeda but domestic patriot political groups. The FBI has specialized in creating domestic terrorists – or rather patsies – and shifting the blame over to their political enemies.
Read the rest
here